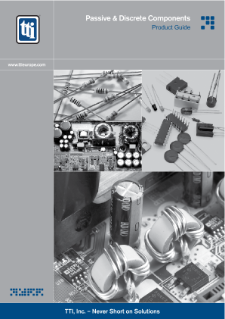 TTI Passive & Discrete Components Product Guide
TTI has built a reputation as a specialist in passive components stretching back over 35 years. The company represents leading brands, stocking wide and deep across each franchise. With many of the world's leading manufacturers of resistors and capacitors, TTI is at the top of their supply chain network thanks to the company's commitment to holding inventory and its policy of introducing new products before many other distributors. This ensures that customers get access to the latest technology solutions.
Discrete semiconductor manufacturers are continually developing new diodes, rectifiers, FETs, LEDs etc which offer designers a wealth of performance benefits that they can incorporate into their latest projects. TTI represents a number of leading manufacturers of these products and provides the same level of service and support that buyers of passive and interconnect components have come to expect.
---