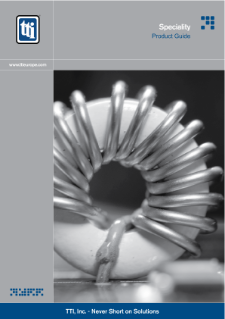 TTI Specialty Product Guide
TTI is known as a specialist in Passives, beside resistors and capacitors, we also focus on Speciality Passive Products.
We define Speciality Products as passives that require extensive technical and application knowledge and extended design-in support. These products include Varistors, Thermistors, Inductors, Resonators and all kind of Filters plus much more.
Speciality Products are driven by technology and are used in multiple applications such as Automotive, Consumer Electronics, Industrial Systems, Medical Technology, Network Communications and Telecommunications where our Specialties perfectly fit in.
---